Are you experiencing frustration teaching math? Would you like a bit more support while continuing to educate your children at home?
What is Demme Learning?
Demme Learning is a curriculum publishing company that strives to produce products that involve parents in their child's education, while using multi-sensory and sequential instruction. It is adaptable to meet the needs of your student and provide teaching support for a committed instructor.
Demme Learning now offers an amazing digital resource for families called a Digital Pack. This is an online resource where students can watch an instructor present lessons, get examples of the problems they are working on, and check their answers for accuracy.
What is Math-U-See?
Math-U-See is a math curriculum organized in to levels rather than grades. The positive side of this is that you can put your student into whichever level applies. The con is that it may be difficult to make sure your student has completed the grade requirements in math. Demme Learning has prepared for that by supplying the State Standards section in the Schools menu to make sure your child is on track.
Students work at their own pace to progress through the levels and acquire mastery. Math-U-See's manipulatives provide a multi-sensory experience children need when learning. Often, in math, this is left out of instruction and makes the concepts more difficult for the student to learn and apply to other math concepts.
Included in the Demme Packs
Each element of the curriculum is sold individually so you can purchase only what you need for your child.
The Digital Packs are so helpful! Don't forget to add this to your shopping cart.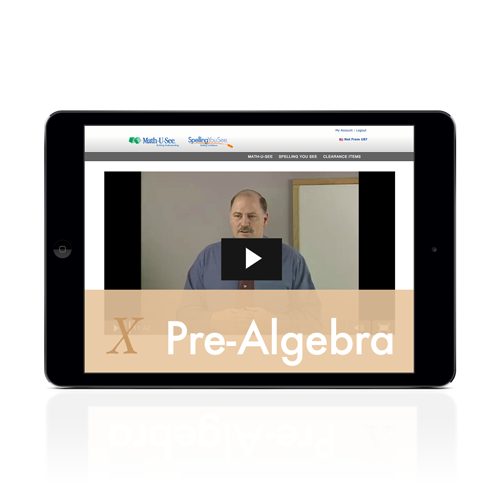 Pre-Algebra Digital Pack gives you 12-month access to Pre-Algebra streaming instruction videos and Instruction Manual PDFs, lesson and test solutions, and other online resources from any browser. You'll also have 12-month access to the Math-U-See Digital Manipulatives.
Note: Digital Packs do not include Student Workbook or Tests.
How did our family use the Math-U-See Pre-Algebra Digital Pack?
Up until this point, I was able to teach my son elementary and middle school math. But then I was stuck. He was ready for Pre-Algebra, but I was not confident enough in my pre-algebra abilities to be able to teach it to him.
This is where the Digital Pack for Pre-Algebra came to the rescue. With this resource, we were able to watch an instructor explain the concepts using the Math-U-See manipulatives and demonstrate many examples on a white board. This provided the instruction that I could not give my son. He was off to dive into the student book to work on his own.
Math-U-See provides a lot of practice problems, which is helpful as students are learning the concepts but the quantity can become overwhelming. So I allowed my son to skip some of them when he showed mastery of the concepts. The lesson tests helped me determine if he needed to go back and review, or if he was ready to move on to the next lesson.
Our thoughts about The Math-U-See Digital Pre-Algebra Pack
My son enjoyed watching the instructor online. Sometimes he would even watch the video twice without being asked to do so. The instructor was straight forward with a dry sense of humor that helped my preteen son connect to him.
I loved it because the online lessons took the pressure off me. My son and I felt like we were on the same "math team" working to complete the student book. I was not a terrible overlord making him learn.
It was a little difficult for me to find my way around the Math-U-See website, so I connected to the online help people. They were able to direct me to the proper places to go. The digital packs are accessed through the Store. I bookmarked the page that we visited each day to make it easy to begin our online lesson.
Where can you find this resource?
The Digital Packs can be purchased through the Math-U-See Store under the math level you are using. For example, the Pre-Algebra Digital Pack is found after clicking on the Pre-Algebra level.
There you will also find a placement test and the list of pre-algebra resources alone with an overview of the curriculum, the table of contents, and a sample digital lesson.
I received free access to this product through the Schoolhouse Review Crew (http://www.schoolhousereviewcrew.com) in exchange for my honest review.