EdTechLens, a way to visit the world from your home!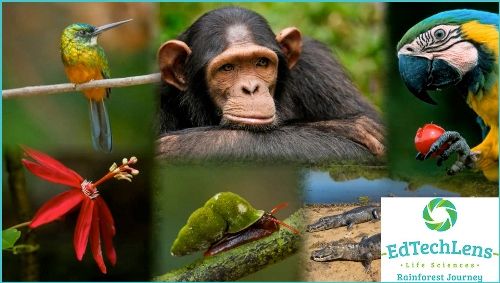 What is EdTechLens?
EdTechLens is a company that provides photographs and videos to help children understand the world around them. These amazing pictures help students connect with the information by introducing them to scientists, real people who live in the rainforests, and amazing facts and events from journals of travelers.
Did you know that the rainforest's nutrients are in the top two inches of the soil because decay happens so quickly?
What is EdTechLens: Rainforest Journey?
EdTechLens: Rainforest Journey is a visit to several rainforests around the world. We learned about tropical and cloud rainforests by seeing pictures, watching videos, meeting children who had visited there, and completing review worksheets.
Rainforest Journey is broken into 5 Units which each contain several chapters and lessons. The lessons are one or two pages long with additional information at the bottom of each page.
Topics include, but are not limited to, animals, fungi, adaptations, types of rainforests, layers in the rainforests, and plant life.
Each lesson ends with three different assessments. This allows parents and teachers to use the assessment that works best for their students.
Did you know that bats have long tongues to lick nectar from deep within flowers?
Included in the EdTechLens:
Rainforest Journey
Beautiful pictures from the rainforests of the world
Videos of rainforest animals in action
Short biographies of real scientists
Journal notes from the directors as they explored
Thoughts from an elementary student who traveled with the producers
Vocabulary words and definitions
Different types of assessments for different learning styles
A PDF version of the information
Did you know that a mushroom cannot make its own food? Fungi like the mushroom must "eat" to survive.
How did our family use EdTechLens: Rainforest Journey?
Our family used the Kindergarten, 3rd grade, and 5th grade programs. This gave us a chance to compare the three levels and use them with all three of our sons. I found that the 5th grade program was best suited to my 3rd grader. So when ordering, keep in mind that you may need to order several grades ahead of what your student usually does.
We all cuddled up on the couch and watched using our laptop computer. Our screen was not large enough to accommodate the beautiful pictures and the captions at the same time. My boys wanted to look at the pictures while I read to them, so we solved this by logging in with our iPad at the same time. They used the laptop to view the pictures, I read from the iPad.
There is also a feature that allows the computer to read the captions. I read them aloud because I wanted to sit and enjoy the pictures as well!
We always read the additional information at the bottom of each page because it furthered our understanding of the concepts. And, the links were really cool and interesting and sometimes gross, in a good way.
Did you know a predatory tree lives in a tropical rainforest?
The Course Outline was helpful because it allowed us to move easily around in the information. We were able to re-watch our favorite videos without reading through the whole lesson. We were able to read the journal entries about Humans in the Rainforest as if we had the journal in our lap.
Did you know that some rainforest orchids smell like cinnamon, vanilla, or rotting meat to attract bees?
Our thoughts about EdTechLens: Rainforest Journey
I hope EdTechLens creates a digital journey for each of our habitats on Earth. After soaking up the Rainforest Journey, my sons were thirsty for more.
Better than watching a movie about the rainforests, this Journey allowed us to move at a relaxed pace through the information and to take a break when our minds were full of facts and think for a while. Then we would pick it up again and look forward to more!
Did you know that cutting down trees in the rainforest could cause a drought because plants recycle the moisture?
Where can you find this resource?
Right now EdTechLens is offering a 50% Discount! This code can be found on their special offers page.
Be sure to visit EdTechLens on social media.
Twitter: https://twitter.com/edtechlens
Facebook: https://www.facebook.com/edtechlens
Pinterest: https://www.pinterest.com/edtechlens/
Google +: https://plus.google.com/+Edtechlens
LinkedIn: https://www.linkedin.com/company/edtechlens
I received free access to this product through the Schoolhouse Review Crew (http://www.schoolhousereviewcrew.com) in exchange for my honest review.