What are Grapevine Studies?
Grapevine Studies are Bible study curricula that combine several learning styles to help students engage in the material and grow in their knowledge of the Bible. They simplify planning for teachers and allow them to guide students in responding to the Bible passages.
Grapevine Studies provides many topics for different ages and ability levels. Some of the topics include: character studies such as Joseph and Esther, New Testament and Old Testament overviews and timelines, Biblical Feasts and Holy Days, and a calendar combining our Gregorian calendar with the Biblical calendar. Our family worked through The Resurrection study as we prepare for Easter.
Each study uses a teaching method called "Hear-Draw-Review" that guides students as they learn the major characters and events of the Bible.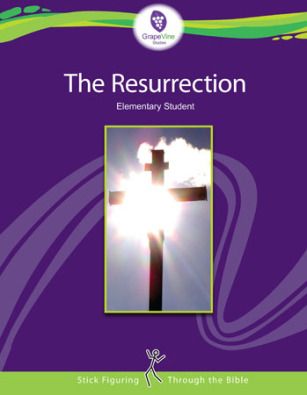 Lessons include timelines that students draw to help them see how these Bible lessons fit together into God's story of Redemption. As students progress through the topics, they are introduced to more Scripture, basic Bible geography, Bible study skills, and Bible references such as a Bible dictionary.
The Grapevine Studies can be used for Sunday Schools, large group study times, family Bible times, and Bible lessons for homeschooled children.
Rather than only reading through the Bible story, participants age 3 to 13 draw the events from the story using Stick Figures. This unique approach stimulates several parts of the brain to help students remember the story well. The review questions ask students to review facts and apply the stories to their lives. The Bible verse memory suggestions allow children and adults to commit key verses to memory.
Included in each Grapevine Study
Lesson Goals and Key Points
Review questions for each lesson
Bible verse memory suggestions
Timelines
Vocabulary words and where they are used in the Bible
How did our family use Grapevine's Resurrection Multi-Level Study?
When asked to write this review, I chose the Resurrection Multi-Level Study because Easter is so important to the Christian faith. We spend much time studying the Christmas story and the birth of Baby King Jesus, yet not enough time is given to the Easter Story and the sacrifices that Jesus made for us.
My 9-year-old third grader used The Multi-Level Student Traceable e-book and my 12-year-old sixth grader used the Multi-Level Student e-book without the traceable pictures. I used the Teacher e-guide.
During our Bible times together, the three of us took turns looking up the verses for the day's lesson. The verses were often in several of the Gospels. We really enjoyed comparing the stories from the four Gospel writers. We learned so much through this comparison! We have a much deeper understanding of the events in Jesus' life from The Last Supper to His Ascension into Heaven.
Jesus' story is broken into 9 lessons. We studied one lesson each day. They were not very long, so we were able to spend a lot of time really digging into the lessons and getting to know the story well.
After reading the story from the Bible, we would use the Student Books to draw. My third grader was nervous about drawing his own stick figure pictures, so he chose the Traceable book. This allowed him to relax and enjoy drawing each scene and event in the story and on the timelines.
My older son chose to use the blank Student book. These pages were separated into sections for each picture, but allowed him to draw his own stick figures. He had so much fun interpreting the lessons and adding his own drawing flare to the stick figures.
Our thoughts about Resurrection Study
When you combine several modes of learning styles, students remember information much better. In their studies, GrapeVine combines auditory processing, visual processing, and visualizing techniques to really lock the information into student's memories.
As a homeschool teacher who has children with different learning styles, I found that this combination worked well for each of their learning styles.
As an Educational Therapist who works with children with learning disabilities, I see the great value in this program. It can be used to teach Bible stories, but also to teach auditory processing, visual processing, and visualization skills, which are used to enhance memory abilities. What a bonus that you can help your children grow in these skills while studying Scripture.
My children loved studying the Bible using GrapeVine Studies. They felt like it was a break from school rather than another task to complete. We enjoyed sharing our pictures with our four-year-old son who is just learning the Resurrection story. We are certainly going to learn from more Bible lessons by Grapevine! The next ones we are looking forward to are the Old and New Testament Timelines and a character study on Joseph and his time in Egypt. During our Christmas preparations, we will use the Birth of Jesus study.
Where can you find this resource?
GrapeVine Studies can be found and purchased through their website. Each lesson can be bought as an assembled book or an e-book license. I found that the e-book licenses cost less than the books. I downloaded them and bound them myself.
I received free access to this product through the Schoolhouse Review Crew (http://www.schoolhousereviewcrew.com) in exchange for my honest review.