An engaging way to successfully memorize your times tables: Times Tales!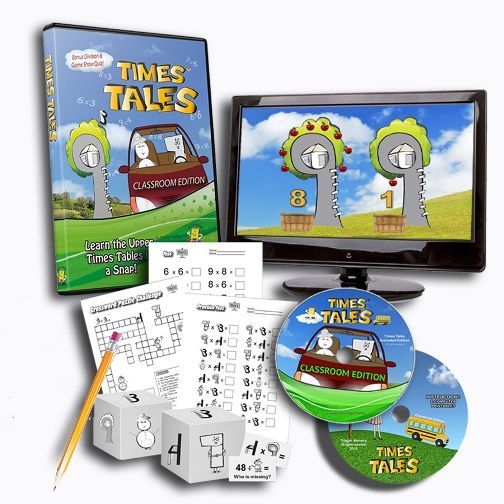 What is Times Tales?
The Trigger Memory Co. provided us with Times Tales, which helped my third grade son memorize his upper multiplication facts quickly and painlessly. Using this mnemonic-based program, Nathan watched an engaging animated movie of cute, simple stories. This gave him a "memory peg" to recall difficult multiplication facts. We received the instant download copy and were able to begin learning right away.
Included in the Times Tales Instant Download
The upper multiplication facts are separated into two groups so your student does not feel overwhelmed with a lot of information in one sitting.
You receive downloadable flash cards with story reminders and flashcards without the story reminders, just the numbers.
Included is a practice test with the story reminders printed out. Then your child can complete the post-test with numbers only.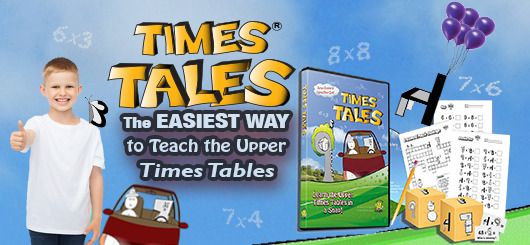 How did our family use Times Tales?
My third grader is in the middle of trying to memorize his multiplication facts. As most of us experiened, this is not a fun task to take on. But The Trigger Memory Co. has made it fun. Nathan actually looked forward to using Times Tales.
The downloaded, simple animated movies caught and held Nathan's attention. He completed nine steps that the computer program walked him through. A friendly animated teacher explained each step and told all the stories. Twenty one-minute stories were introduced over a two-week period.
Step 1: Each number is assigned a story character.
Step 2: The characters then interacted with each other in a simple story.
Step 3 is a story quiz to make sure students remember all the stories.
After completing the quiz, Nathan moved on to Step 4, recalling the stories without prompts.
Step 5 is to practice with online flash cards that explain how the stories can be changed into multiplication facts.
After mastering these, Nathan moved on to Step 6, a Beat the Clock game to review the multiplication facts.
Then there is a bonus division game. This shows students how to change the multiplication facts they just learned into division facts.
After that, Nathan moved on to the printed flashcards to finish mastering the facts.
To conclude, he took a written practice and post-test. This allowed me to make sure he had mastered the facts.
Because of Nathan's success, I asked a student with Dyslexia that I work with to try the program. I slowed the pace and introduced three or four stories at a time. She then worked through the nine steps with those stories before moving on to the next ones. She enjoyed them and also experienced success!
The stories give students a way to learn the numbers in the multiplication facts in a story context that is easier to remember. For example: The sixth grade class (6) raised butterflies (3). At one o'clock (1) they let eight (8) of the butterflies go. So 6×3=18. The story is so much easier to remember then the numbers alone.
Our thoughts about Times Tales
Nathan looked forward to practicing his multiplication facts with The Trigger Memory Co.'s Times Tales. The previously daunting task of memorizing these facts became a fun and easy experience. He reviewed the stories on the printed flashcards by telling them to his brothers. Now my four-year-old has most of the stories memorized also. Yea!
It has been a month now since Nathan learned the stories and they have stayed with him. I have overheard him working in this math book and telling the stories to himself under his breath. It is great! He learned what are usually the most difficult multiplication facts and enjoyed doing it. Success!
I asked Nathan how he would rate Times Tales on a scale of 1-10 and he asked if he could give it a thousand!
Where can you find this resource?
Times Tales can be found and purchased through their website. Each lesson can be bought as an assembled book or an e-book license. I found that the e-book licenses cost less than the books. I downloaded them and bound them myself.
I received free access to this product through the Schoolhouse Review Crew (http://www.schoolhousereviewcrew.com) in exchange for my honest review.