Instead of filling your children's minds with shallow and rude books, provide them with quality reading materials that are entertaining and character building. The Secret of the Hidden Scrolls is a must for your bookshelf!
For this review, our family received a complementary copy of The Secret of the Hidden Scrolls: the Beginning (Book #1) and The Secret of the Hidden Scrolls: Race to the Ark (Book #2).
What is The Secret of the Hidden Scrolls books?
Our family enjoyed reading the first two books of this series written by MJ Thomas. They are both about a brother and a sister, Peter and Mary, and their dog Hank, who are visiting their archeologist Great-Uncle Solomon in his house full of amazing and mysterious treasures. While exploring the house, the kids find a locked door to the library. Great-Uncle tells them that they need to be chosen in order to enter the room and listen for the lion's roar. This is all pretty mysterious, until it happens to them!
Peter, Mary, and Hank are swept into a time and place in biblical history as they attempt to unravel the hidden message a scroll with strange writing.
As the plot unfolds, readers are pulled into the adventure as Peter, Mary, Hank, and the angel Michael fight against Satan.
A Cautionary Word about Biblical Fiction…
Make sure your children know the true biblical accounts of Bible stories before reading fictionalized accounts of them. I just caution parents to discuss with their children what is true and what is fiction. There is a danger when children learn the Bible through fiction without first understanding the true story from the Bible. Please make sure that your kids know the Bible is the true story!
What is The Secret of the Hidden Scrolls about?
In The Secret of the Hidden Scrolls: The Beginning (Book #1), Peter, Mary, and Hank travel back in time to when God created the universe and everything in it. They arrive in utter darkness, then hear God speaking His creation into existence.
They then meet the angle Michael who explains that they must unravel the message on the secret scroll in only seven days or they will remain where they are forever. But he cannot give them clues, they must figure it out on their own.
As they observe creation week and how God speaks everything into existence, they see and experience God and His amazing creativity, planning, and ability to create perfection.
Then all is about to be shattered as Satan arrives in the guise of a snake. The children encounter him before he is able to reach Adam and Eve. What will they do? They are not allowed to change history even though they want to. Finally, at the last moment, they discover what the words on the scroll say and are swished back to their Great Uncle Solomon's home and to safety.
As they discuss their adventures with their wise Great Uncle, they now see the mighty hand of God in the midst of the world they live in.
In The Secret of the Hidden Scrolls: Race tot he Ark (Book #2), Mary, Peter, and Hank are again off on the adventure of a lifetime as they are carried back in time to the days of Noah right before the Flood. This time they encounter the lawless people of the world who have let their sinful natures dictate their actions and lives. There is even a bully who eventually captures them and locks them in the dungeon. How will they escape?
The children and Hank must make it to the Ark to warn Noah of some coming danger from Satan who is disguised as the Dark Ruler.
Upon reading the safety of the Ark, they discover there is still work to be done to prepare for the soon approaching storm and flood. Animals are arriving each day and need to be cared for. Food supplies must be stored and those mischievous monkeys must be found and put safely into their home. Will it all get done in time? And where is the missing wolf?
Then the lion goes missing so Peter, Mary, and Hank set out to find them. They face off with the Dark Ruler and are about to loose when the lion and Michael come to their rescue.
The floodwaters are rising and the scroll is still not solved. Just as the water threatens to overtake them, Peter realized the final word of the scroll's message and they are quickly transported back to the safety of their Great Uncle Solomon's house. They are soaking wet, but alive and armed with more insights into the story of Noah's Flood.
Our thoughts about The Secret of the Hidden Scrolls
I would have liked to see a disclaimer at the beginning of the book reminding readers that this series is a fictionalized account of biblical stories. I would hate for readers to think that this is a true account of what really happened in Bible times. Parents, make sure your children understand the facts of the Bible before reading.
Like most historical fiction writers, M.J. Thomas speculates about events and characters that might have been, but are not in the biblical account.
I do like that everything God says is straight out of Scripture.
Having said this, I do think The Secret of the Hidden Scrolls is a good series for children. I have been dismayed of late at the reading material offered to children. Society is offering to fill our children's mind with junk and rude behavior with a bit of lying and meanness thrown in. Parents need to seek out and provide honorable reading for their children. Remember, garbage in = garbage out.
And one book read is much more beneficial then hours of TV passively consumed!
Recommendation
Buy it, read it, enjoy it! The Secret of the Hidden Scrolls is a great series for young readers. Adventure and imagination is combined with true biblical stories to produce some fun-loving books that help to bring Bible stories to life.
My three boys ages 6, 10, and 13, all had fun with the books. We read them aloud and were able to finish them in just a few days. This was partially due to the fact that they didn't want me to stop reading. (Smile!) All the boys were torn between Peter and Hank, the dog, being their favorite character. Both are courageous and able to stand up for what is right.
We are all looking forward to reading the next one!
Where can you find more information about The Secret of the Hidden Scrolls books by M. J. Thomas?
You can find more information about The Secret of the Hidden Scrolls by visiting their website and following these social media links:
Social Media Links:
• Facebook: https://www.facebook.com/WorthyKidsIdeals/
• Instagram: @worthypub
• Twitter: @worthypub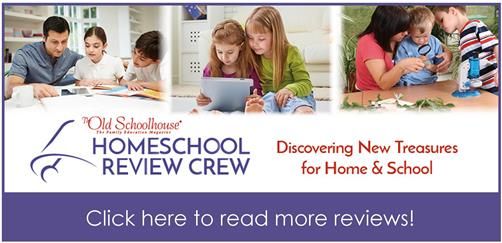 Disclaimer
I received a FREE copy of this product through the HOMESCHOOL REVIEW CREW in exchange for my honest review. I was not required to write a positive review nor was I compensated in any other way. All opinions I have expressed are my own or those of my family. I am disclosing this in accordance with the FTC Regulations.