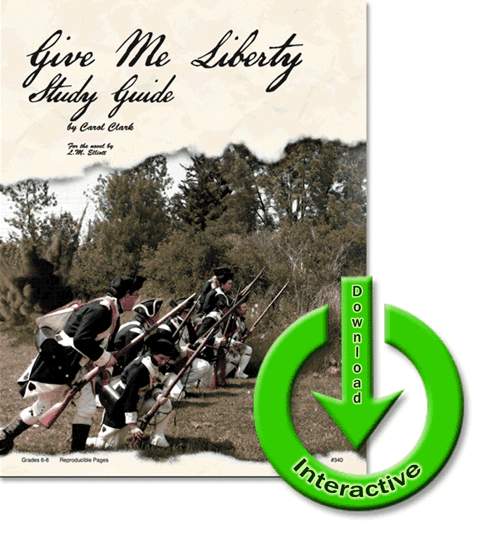 Progeny Press is offering exceptional E-Guides for Comprehension and higher-level thinking skills.
Through The Old Schoolhouse Review Crew, our family reviewed Progeny Press's Give Me Liberty E-Guide by L.M. Elliott. It was written for grades 6-8, but my 4th grade and kindergarten sons enjoyed it too! What a great faith-based literature study that appeals to so many ages!
Progeny Press offers many other E-Guides for grades K-12. Enjoyable titles include study guides for such classic literature as The Drinking Gourd, Mr. Popper's Penguins, Indian in the Cupboard, The Lion the Witch and the Wardrobe, and Great Expectations.
You can read more reviews for many other titles on Facebook or by reading other reviews from The Old Schoolhouse Review Crew.
What are Progeny Press's E-Guides?
As a mom and teacher who wants her sons to develop strong critical thinking and analysis skills, I am always on the lookout for materials that will help me teach in depth evaluating, underatanding, and application tools. So many comprehension study guides that I have evaluated, primarily focus on remembering information and identifying details in the story. This is great for young learners, but as children grow, they need to learn to understand the concepts presented in books and learn from them by evaluating the lessons and applying them to their own lives.
Progeny Press E-Guides do just this. Some questions in the study guide ask students to remember details and events. These questions are great for K-3 learners. Older students are then asked to talk about what the characters may have been thinking or why they reacted as they did. Students draw parallels between the behaviors of characters. These types of questions are essential for grades 4-12. The next step is for the students to take what they have learned and create hands-on projects or give examples in their own lives of lessons the characters are learning. This is excellent!
I have never used such a complete and in-depth study guide as this ones by Progeny Press. I usually find myself dissatisfied with comprehension questions and end up writing my own, but with Progeny Press, I did not need to. They had it covered!
What is included in Progeny Press's E-Guide for Give Me Liberty?
Give Me Liberty, by L.M. Elliott is divided into ten parts. Progeny Press's E-Guide provides a group of questions for each part. It begins with vocabulary questions. Some of these are finding synonyms, categorizing words in groups, or choosing the best word to complete a sentence.
After the comprehension, analyzing, evaluating, and applying information questions, students are asked to study a literary element and find examples of it in the section they read. For example, anthropomorphism is when human qualities or actions are given to inanimate objects or ideas. Allusions and aphorisms are explained and identified along with paradoxes and foreshadowing. My sons so enjoyed learning these elements of quality writing and then hunting for them in the chapters and making up some of their own!
Questions relating Give Me Liberty to the Bible were especially enjoyable. We looked up verses in the Bible and analyzed how they applied to the chapters we had read. The E-Guide then asked us to relate these verses to our own lives and how they could affect our daily activities. I love how Progeny Press pulls Biblical learning into literature studies!
The E-Guide for Give Me Liberty includes optional activities such as creating posters, further discussion questions, mini reports, and oratories. My husband was so impressed one day when he listened in to our discussion of how John Locke's and Alexander Pope's ideas on Man's Condition compare with the Biblical view of Man's Condition. Wow! That was an amazing contrast to discover with my three sons. Thank you Progeny Press!
How did our family use Progeny Press's E-Guide?
I read aloud Give Me Liberty to my three boys, age 5, 9, and 12. We would then discuss the questions from the E-Guide together. I directed some particular questions to each child depending on their age and level of understanding. This worked great! I am so thankful for a literary study that we can all do together, regardless of our ages.
Our thoughts Progeny Press's E-Guide
This E-Guide study guide is far superior to any others I have used in public school, private school, or home school! It is an outstanding comprehension guide, character study, Biblical comparison, and teaching guide for elements of literature. It is definitely a teaching instrument that educators should use!
Where can you find this and other resources from Progeny Press?
Progeny Press has this and many other homeschool curriculum resources at their website.
You can see more of these resources at their social media sites:
I received free access to this product through the Schoolhouse Review Crew (http://www.schoolhousereviewcrew.com) in exchange for my honest review.